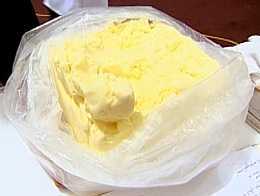 All-Natural Artisan Butter
"I truly believe that great cheese and butter begins with great milk, and my products always start with Wisconsin's highest quality milk from small Wisconsin dairy farms that are certified rBGH-free.
The art and craft of butter making, I have learned over the years, must be practiced with great pride and satisfaction to deliver an exceptional product. Each small batch is expected to reach perfection and take advantage of the milk and cream supply available at specific times during the year. As a buttermaker, my seasonal butters offer a continual challenge to bring out the most natural, delicious and beautiful colors and flavors because of the fields and forage, and natural environment available in Wisconsin, to nurture the cows and goats. The end reward is the pleasure of sharing the butters with consumers and chefs who appreciate unique local foods."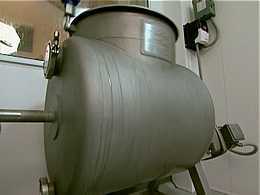 Al crafts his European-style traditional butters in small batches from the milk of local Wisconsin farmers. Here's an overview of just a few of the butters made at Nordic Creamery:
He uses farm-fresh sweet cream to make "Summer Butter" from April to October when cows are on pasture, creating fresh, herby flavors and a sunny yellow color.
"Harvest Butter" is crafted with sweet cream from the same dairy-herd, nourished from fall to spring by harvested Wisconsin grasses and grains, to create a distinct, intense creamy flavor and color.
"Spesiell Kremen" is Nordic Creamery's Cultured Butter that is only churned at limited times throughout the year, and made with his recipe for a European-style butter, creating a tangy, but sweet and complex nutty flavor, with an incredibly rich 84% butterfat content, which translates into lower moisture for better melting and sautéing characteristics as well as enhancing sauces and delicate desserts.
Cultured Butter is the same wonderful butter as the Spesiell Kremen, but we add just the right amount of salt to create a pure heavenly treat.
Flavored Butters are a must have for your kitchen. You can pick from Cinnamon Sugar, Garlic and Basil, or our Red Pepper Butter. Cinnamon Sugar butter took home the gold from the US Championship Cheese Contest followed closesly behind with a Silver medal for the Garlic and Basil Butter.
Goat Butter a sweet, light and tangy masterpiece, made from 100% goat milk.
Nordic Creamery Butters are either lightly salted or unsalted to offer the options for use as a table butter or a cooking/baking ingredient. Butter varieties are available in 8-ounce or 12-ounce plastic tubs, or 12-ounce rolls with a parchment wrap. A 10# or 20# box is available for foodservice and chefs.
To purchase our Butter online as well as our Wisconsin Cheese products click here.